Radio control software
CatRadio è un software di controllo per PC di ricevitori e radiotrasmittenti con un'interfaccia grafica semplice ed intuitiva. In una sola finestra sono raccolti i principali comandi utilizzati su una radio, senza la necessità di andarli a ritrovare sull'apparecchio stesso, spesso nascosti in complicati menù con tasti e display poco ergonomici. Consente inoltre il pieno controllo della radio, senza distogliere lo sguardo dal PC, ormai accessorio fondamentale e punto focale in una stazione radioamatoriale.
Salta al download…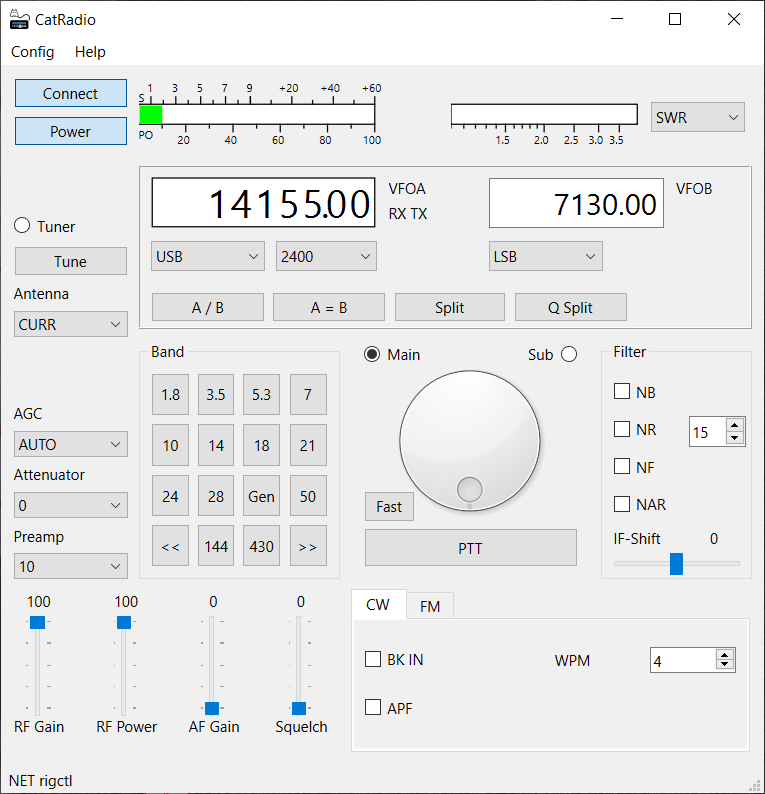 Caratteristiche
Gestione delle principali funzioni e livelli del ricetrasmettitore;
Connessione a radio locale o remota;
VFO interattivo;
Interfaccia semplice e intuitiva;
Tema chiaro o scuro;
Open source e multipiattaforma.
CatRadio, avvalendosi delle librerie Hamlib (attualmente versione stabile 4.5), è compatibile con un ampio numero di radio, la lista aggiornata dei marchi e modelli supportati è consultabile qui: Hamlib supported radios.
Software di questo genere ce ne sono già tanti, alcuni a pagamento, ma nessuno confacente le mie necessità e soprattuto nessuno di questi utilizza le librerie Hamlib, che, oltre a supportare un gran numero di modelli di radio, sono continuamente aggiornate e testate grazie ad un ampio numero di sviluppatori e contributori. Inoltre l'utility rigctld consente l'accesso simultaneo di più software alla radio e l'utilizzo remoto tramite rete. Tra i software che già utilizzano queste librerie ricordo per i modi digitali WSJT-X o FLDIGI, i programmi di log LOG4OM o CQRlog, GPredict per il tracciamento satelliti, ecc.
CatRadio è inoltre multipiattaforma, in quanto scritto in linguaggio C++ nell'ambiente di sviluppo Qt.
Installazione
Scaricare nella sezione download della pagina l'ultima versione di CatRadio relativa al proprio sistema operativo, scompattare i file in una cartella di proprio gradimento, lanciare l'eseguibile per far partire il software.
Al primo utilizzo configurare come illustrato di seguito in configurazione.
Per l'installazione su Raspbian seguire la guida CatRadio su Raspberry Pi, per la compilazione su altri sistemi Linux la guida CatRadio su Linux.
Configurazione
Configurazione Radio
Dal menù Config selezionare Radio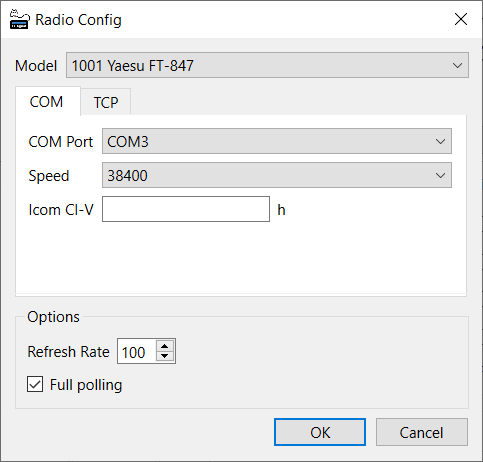 Model: selezionare dalla lista il modello della propria radio.
COM Port: selezionare la porta seriale.
Speed: selezionare il baud rate della seriale.
Refresh Rate: selezionare l'intervallo di refresh (in ms). Generalmente un intervallo di 100 – 200 ms è sufficiente per un controllo fluido della radio, senza sovraccaricare l'interfaccia di comunicazione. Aumentare il refresh rate in caso di radio molto lente o nell'utilizzo combinato con altri software e via rete tramite rigctld di Hamlib.
CI-V Address: per i modelli Icom indicare l'indirizzo CI-V in esadecimale (senza "h" finale).
Full polling: se selezionato i parametri della radio verranno aggiornati periodicamente, a fronte di un maggior carico di dati sulla porta di comunicazione. Normalmente lasciare selezionato, de-selezionare se si riscontrano problemi di rallentamento o scarsa reattività del software.
Configurazione software
Dal menù Config selezionare Setup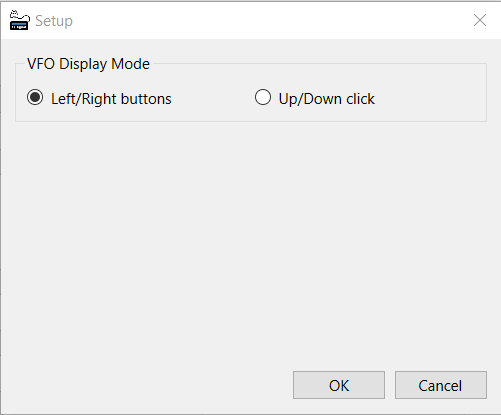 VFO Display Mode: per il display del VFO principale selezionare la sintonia delle cifre utilizzando tasto Sinistro/Destro del mouse o click nella parte Superiore/Inferiore del display.
Theme: selezionare Default per lo stile classico o Dark per quello scuro.
Manuale d'uso
Sintonia
Dial Utilizzare la manopola al centro della finestra con lo scroll del mouse o, dopo averla selezionata, le frecce della tastiera. Per un passo di sintonia più veloce, selezionare il pulsante Fast. Per le radio che supportano il sub VFO, cliccando su Sub è possibile agire sulla frequenza del VFO secondario.
Display frequenza Con il mouse sulle cifre del display della frequenza del VFO, usando la rotella di scroll oppure i bottoni, in base a come configurato nell'opzione VFO display mode.
Download
Versione 1.3.0
Repository CatRadio su GitHub.
Change Log
Versione
Change log
1.0.0
First issue
1.1.0
+ AF Gain and Squelch slider Tab with CW and FM functions
+ CW keyer speed
+ FM repeater shift and CTCSS tone
+ Red color VFO during transmit
* SWR meter with log scale
* CI-V Address entry in hex
* Bug correction: RF Gain slider now correctly updated
* Bug correction: noise filters init settings now correctly updated
* Bug correction: subVFO mode
* Bug correction: VFO dial now with pointer tracking
* Cosmetic adjustement to fit the font for different SO compiler
1.1.1
* VFO operations: check rig caps before perform VFO operations
* Sub VFO: improve sub VFO functions using targetable_vfo caps
1.2.0
+ VFO Display on Sub VFO
+ Clarifier RIT/XIT commands
+ Up/Down VFO buttons
+ Repeater shift offset
+ DCS code and squelch
+ COM port list in the Radio Config Dialog
* Improved Radio Config Dialog
* Bug fix: Quick Split button
* Bug fix: address the proper VFO red during Tx
* Bug fix: IF shift slider now correctly updated
* Bug fix: CW/FM tab autofocus freeze
1.3.0
+ Radio info
+ Dark theme
+ MIC levels
* Bug fix: Sort bandwidth list
* General GUI and code improvements
+ NB2
* Bug fix: Sliders
+ Sub meter COMP, ID, VDD
+ Band stack for supported Yaesu radios
* Updated to library Hamlib 4.5
+ Save/restore window settings
Legenda: + Nuovo; – Rimosso; * Aggiornato.
Licenza
Il software CatRadio è distribuito gratuitamente, senza alcuna garanzia, con licenza GNU GPL (General Public Licence) v. 3.
Feedback
Sono graditi feedback sull'utilizzo del software, modello di radio utilizzato, segnalazione di bug, suggerimenti, proposte di miglioramento, collaborazioni.
Screenshot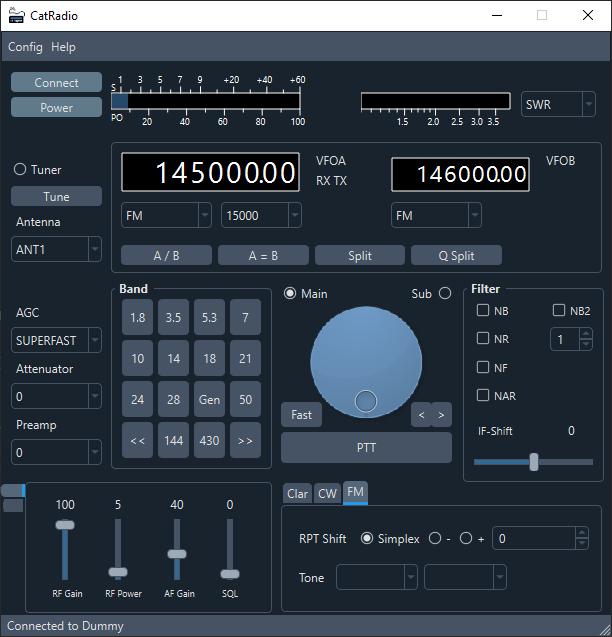 Argomenti correlati
---

Questa opera è distribuita con:
licenza Creative Commons Attribuzione - Non commerciale - Condividi allo stesso modo 3.0 Italia.
Si declina ogni responsabilità per eventuali errori ed omissioni e gli eventuali danni che ne dovessero conseguire. Per ulteriori informazioni consultare le note legali.