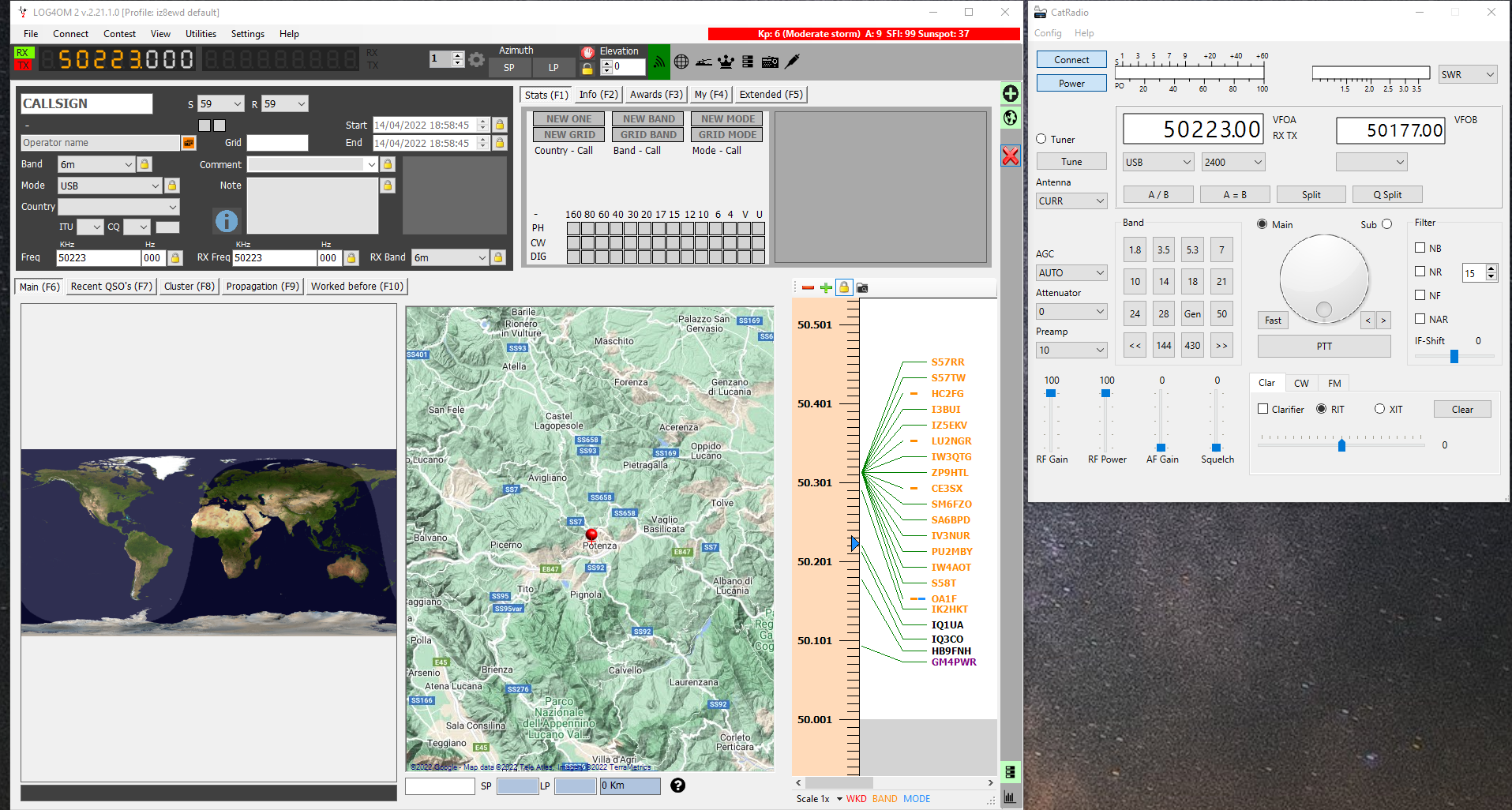 Configurare CatRadio per lavorare con Log4OM
Log4OM (Log for the Old Man) è un software free di log per Windows molto diffuso e apprezzato, realizzato da Daniele IW3HMH. Il programma è ben fatto e completo con grafica accattivante. Oltre alla classica funzione di logbook, troviamo la gestione dei diplomi, il dx cluster integrato, gestione QSL, calcolo della propagazione, interfaccia radio e rotore, keyer CW, modalità contest, gestione log on-line e tante altre funzionalità.
L'interfaccia radio è limitata ai comandi essenziali: frequenza e modo. Permette la sincronizzazione con il dx cluster, la memorizzazione automatica di banda, modo e frequenza nei dati del QSO, ma non gestisce tutte le funzioni delle moderne radio. Fortunatamente Log4OM utilizza le librerie Hamlib che, con l'utility rigctld, permettono la condivisione del controllo della radio tra software diversi. In questo modo è possibile accoppiare Log4OM e CatRadio, per lavorare in bundle ed avere a portata di click tutta la stazione radio. Per chi non lo conoscesse, CatRadio è il software free e multi-piattaforma di controllo radio, da me realizzato.
Rigctld è un demone che gestisce l'invio di comandi Hamlib alla radio tramite protocollo TCP. Per ulteriori approfondimenti vi rimando all'articolo sulle librerie Hamlib.
Log4OM include già le librerie, pertanto non è necessario installare alcunché, inoltre provvede esso stesso a lanciare il demone rigctld in background all'avvio della connessione CAT con la radio.
Inoltre con questo procedimento è possibile collegare contemporaneamente alla radio un numero qualsiasi di programmi, senza l'utilizzo di porte seriali virtuali o altri complicati sotterfugi.
Configurazione
La configurazione è molto semplice e si conclude in pochi passi:
Aprire Log4OM, selezionare il menù Settings e poi Configuration;
Nella finestra di configurazione che si aprirà, selezionare la voce CAT Interface sotto Hardware Configuration;
Impostare il tab Settings come segue, scegliendo Hamlib come CAT Engine, abilitare il CAT auto-start. Personalizzare il resto secondo le proprie esigenze;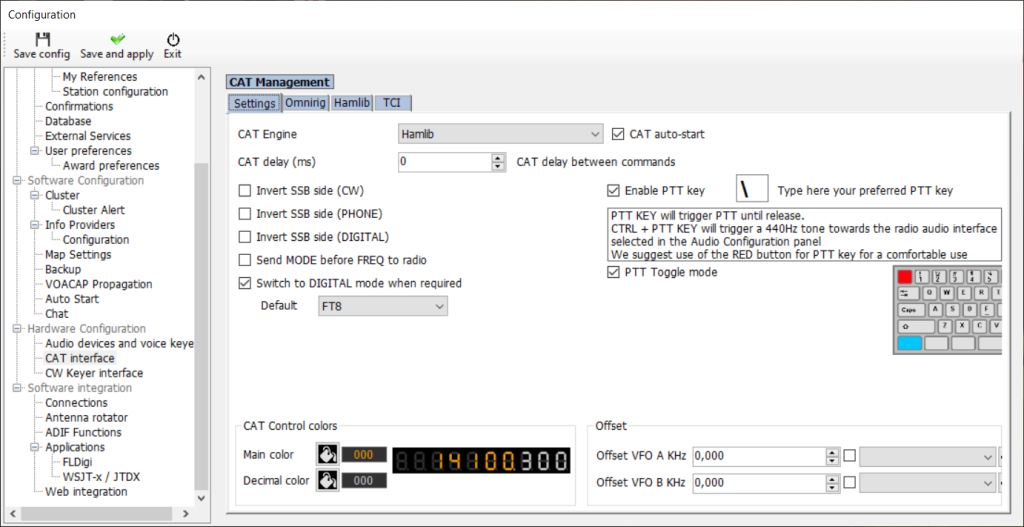 Impostare il tab Hamlib come segue, selezionando dall'elenco RIG Model la propria radio e specificare le informazioni relative alla porta seriale. Impostare un Polling delay lungo, in modo da non sovraccaricare di richieste l'interfaccia della radio. Abilitare VFO MODE se la radio supporta il controllo contemporaneo dei due VFO.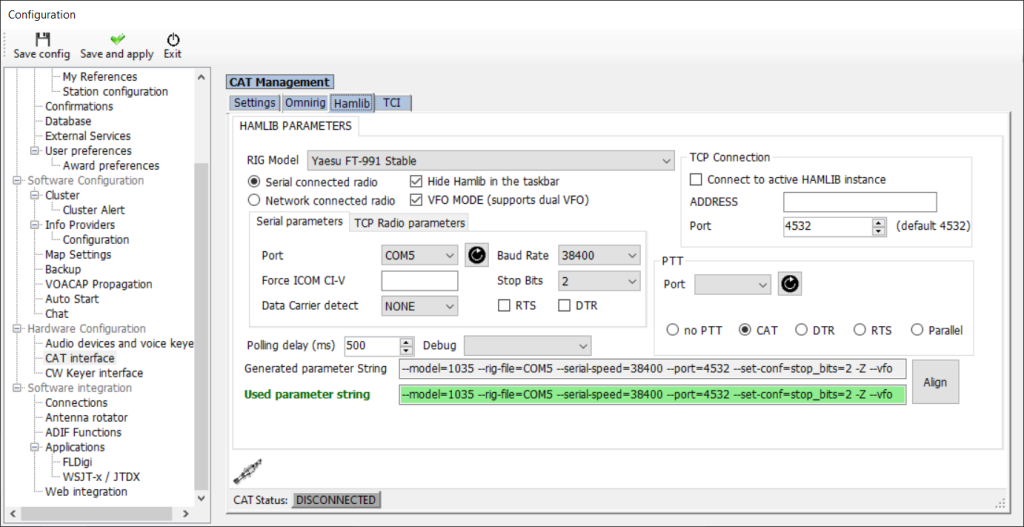 Premere Align per aggiornare la stringa di comando;
Save and apply per salvare, chiudere il programma Log4OM e riavviare;
Al riavvio verificare che Log4OM sia connesso alla radio (indicatore CAT in verde nella barra di stato) e comunichi correttamente, visualizzandone a display la frequenza.
Avviare CatRadio, nel menù Config scegliere Radio;
Selezionare il Model 2 Hamlib NET rigctl, impostare IP address 127.0.0.1 (localhost) e porta di default 4532;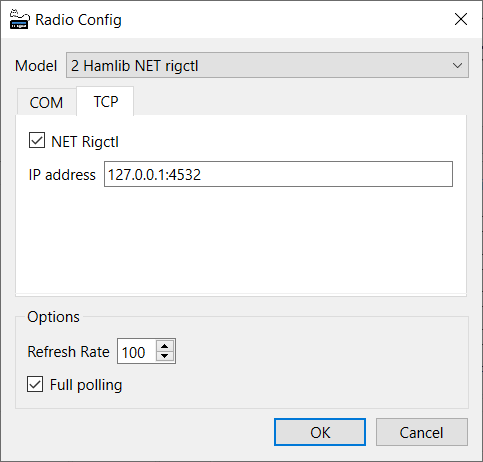 Confermare con OK e premere il pulsante Connect;
CatRadio è ora in grado di controllare la radio e Log4OM sarà sincronizzato di conseguenza.
Sincronizzare altri software
Come spesso accade, potrebbe esserci la necessità di sincronizzare altri software al controllo della radio, ad esempio per chi pratica i modi digitali WSJT-X, JTDX o FLdigi. Nessun problema, è sufficiente selezionare le Hamlib come CAT control (per i programmi che le supportano), impostare modello radio e IP address come già fatto per CatRadio, ovvero selezionando il modello NET rigctl.
Riferimenti
Argomenti correlati
---

Questa opera è distribuita con:
licenza Creative Commons Attribuzione - Non commerciale - Condividi allo stesso modo 3.0 Italia.
Si declina ogni responsabilità per eventuali errori ed omissioni e gli eventuali danni che ne dovessero conseguire. Per ulteriori informazioni consultare le note legali.