Rotator control software
CatRotator è un software di controllo di rotori d'antenna con un'interfaccia grafica semplice ed intuitiva e funzionalità evolute. Consente il pieno controllo e l'automazione del rotore, senza distogliere lo sguardo dal PC, ormai accessorio fondamentale e punto focale in una stazione radioamatoriale.
Salta al download…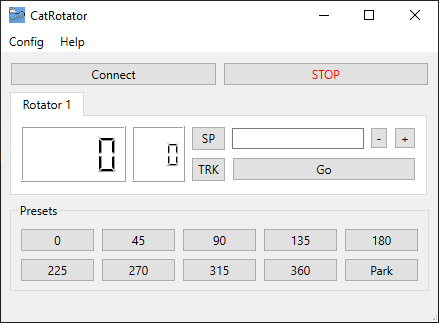 Caratteristiche
Gestione contemporanea fino a tre rotori;
Compatibile con rotori ed interfacce in azimuth ed elevazione;
Campo immissione puntamento in gradi, locator o callsign;
Pulsanti Preset e Park personalizzabili;
Pulsante Stop di emergenza.
Commutazione Short Path / Long Path;
Open source e Multipiattaforma;
Tracking satelliti con PreviSat;
Tracking locator, callsign e luna con WSJT-X;
Tracking aerei con AirScout;
Controllo da log con Log4OM ed N1MM Logger+.
CatRotator, avvalendosi delle librerie Hamlib (attualmente versione 4.5.5), è compatibile con un ampio numero di rotori, la lista aggiornata dei marchi, modelli e protocolli supportati è consultabile qui: Hamlib supported rotators.
Le librerie Hamlib, oltre a supportare un gran numero di modelli di rotori, sono continuamente aggiornate e testate grazie ad un ampio numero di sviluppatori e contributori. Inoltre l'utility rotctld consente l'accesso simultaneo di più software al rotore e l'utilizzo remoto tramite rete. Tra i software che già utilizzano queste librerie ricordo GPredict per il tracciamento satelliti, ecc.
CatRotator accetta comandi tramite protocollo UDP, è quindi compatibile per il controllo automatico dai programmi di log come Log4OM o il tracciamento satelliti con PreviSat. Inoltre è interfacciabile, tramite il file di puntamento azel.dat, a WSJT-X ed AirScout. In futuro si prevede di sviluppare ulteriormente l'interfacciabilità con software che utilizzano protocolli o modalità diverse.
CatRotator è di libero utilizzo, opensource e multipiattaforma, scritto in linguaggio C++ nell'ambiente di sviluppo Qt.
Installazione
Scaricare in fondo alla pagina l'ultima versione di CatRotator relativa al proprio sistema operativo, scompattare i file in una cartella di proprio gradimento, lanciare l'eseguibile per far partire il software.
Al primo utilizzo configurare come illustrato di seguito in configurazione.
Per l'installazione su Raspbian seguire la guida CatRadio su Raspberry Pi, per la compilazione su altri sistemi Linux la guida CatRadio su Linux.
Configurazione
Configurazione Radio
Dal menù Config selezionare Rotator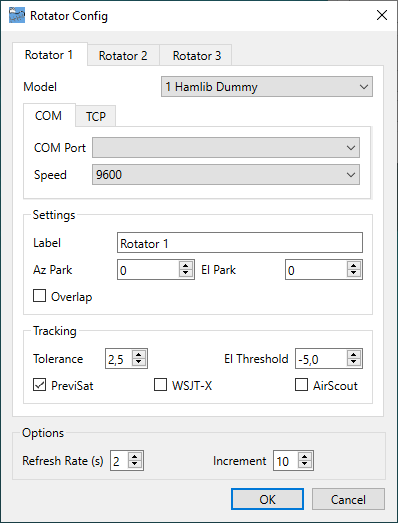 Per ogni rotore che si intende configurare (Rotator 1, Rotator 2, ecc), specificare:
Model: selezionare dalla lista il modello del proprio rotore.
COM Port: selezionare la porta seriale.
Speed: selezionare il baud rate della seriale.
Settings
Label: inserire un nome identificativo del rotore.
Az Park ed El Park: inserire la posizione di parcheggio (in deg).
Overlap: spuntare se il rotore è in grado di ruotare oltre i 360 gradi (ad es. alcuni modelli Yaesu).
Tracking
Tolerance: la tolleranza di puntamento in gradi del sistema di tracking automatico;
El Threshold: la soglia in elevazione oltre la quale avviare l'inseguimento;
PreviSat: spuntare per abilitare il tracking automatico dei satelliti con PreviSat;
WSJT-X: spuntando una prima volta (segno del quadratino) si abilita il tracking del locator o, in mancanza, del callsign con WSJT-X, alla seconda spunta di abilita il tracking della luna;
AirScout: spuntare per abilitare il tracking automatico degli aerei con AirScout.
Inoltre nelle opzioni:
Refresh Rate: selezionare l'intervallo di refresh (in secondi).
Increment: step di incremento/decremento in gradi per i pulsanti + e -.
Configurazione software
Dal menù Config selezionare Setup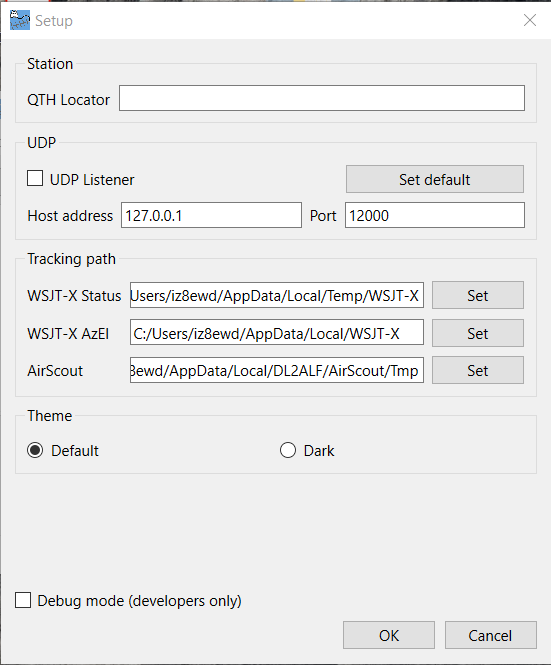 Station
Specificare il proprio QTH Locator.
UDP
Abilitare UDP Listener per la ricezioni di comandi da altri software attraverso il protocollo UDP.
Host address: indicare l'indirizzo IP del PC che invia i comandi (127.0.0.1 se è lo stesso).
Port: la porta di comunicazione (12000 default, 12040 per N1MM Logger+).
(Per rendere effettive le modifiche della sezione UDP, è necessario riavviare il software.)
Tracking path
WSJT-X Status: specificare il path del file status di WSJT-X per il tracking di locator e callsign.
WSJT-X AzEl: specificare il path del file azel.dat di WSJT-X per il tracking della luna.
AirScout: specificare il path del file azel.dat di AirScout.
Theme
Selezionare il tema di Default o il Dark theme.
Configurazione Presets
Dal menù Config selezionare Presets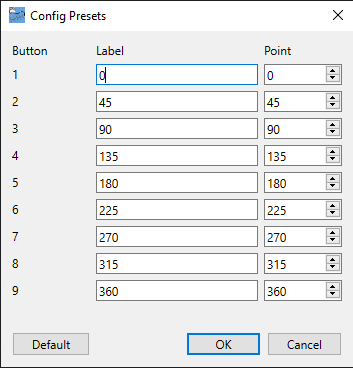 Per ogni pulsante di Preset, specificare l'etichetta Label e il puntamento di azimuth Point. Con il pulsante Default si ricarica la configurazione iniziale.
Manuale d'uso
Premere Connect per avviare la comunicazione con i rotori, il display indica la posizione attuale. In caso di errori nella connessione, il tab risulterà non attivo.
Selezionare il tab relativo al rotore che si intende utilizzare. Per girare il rotore specificare la nuova posizione e premere Go. Nel campo di immissione è possibile utilizzare i seguenti formati:
azimuth;
azimuth <spazio> elevazione per i rotori az/el;
elevazione per i rotori solo el;
QTH locator in tal caso il programma calcolerà il relativo puntamento;
Callsign e premere <enter>, il programma risale al country di appartenenza e ne propone il relativo locator.
I pulsanti + e – consentoni di incrementare/ridurre la direzione di puntamento.
Per commutare short / long path utilizzare il pulsante SP / LP.
Il pulsante TRK attiva il tracking automatico (del software specificato nel Setup del rotore).
Per utilizzare i Presets o la posizione di Park, premere il relativo pulsante.
Per fermare in qualsiasi momento la rotazione di tutti i rotori, premere il pulsante STOP.
Download
Versione 1.4.0
Repository CatRotator su GitHub.
Per sistemi operativi su base Linux come Debian, Ubuntu, ecc, fare riferimento alle istruzioni indicate qui: CatRadio su Linux.
Per l'installazione su Raspbian seguire la guida CatRadio su Raspberry Pi.
Change Log
Versione
Data
Change log
1.4.0
2023-04-15
+ Debug mode
+ Tracking N1MM Logger+
+ Dark theme
+ Tracking WSJT-X status
+ Point with callsign
* Bug fix: COM port list
* Updated to library Hamlib 4.5.5
1.3.0
2022-10-23
* Code optimization
* Updated to library Hamlib 4.5 beta
+ Tracking PreviSat
* Bugs correction
1.2.0
2022-09-16
+ Manage rotators with overlap 450deg
+ Plus/Minus buttons for step increment
+ Tracking AirScout aircraft
+ Tracking WSJT-X moon
1.1.0
2022-06-08
* Up to three rotators
* Connection logic and messages
+ Elevation rotator
+ Az/El rotator
+ Short/long path selection
+ Presets configuration
+ Point with QTH locator input
+ Save/restore window settings
1.0.0
2022-05-17
First issue
Legenda: + Nuovo; – Rimosso; * Aggiornato.
Licenza
Il software CatRotator è distribuito gratuitamente, senza alcuna garanzia, con licenza GNU GPL (General Public Licence) v. 3.
Feedback
Sono graditi feedback sull'utilizzo del software, segnalazione di bug, suggerimenti, proposte di miglioramento, collaborazioni.
Argomenti correlati
---

Questa opera è distribuita con:
licenza Creative Commons Attribuzione - Non commerciale - Condividi allo stesso modo 3.0 Italia.
Si declina ogni responsabilità per eventuali errori ed omissioni e gli eventuali danni che ne dovessero conseguire. Per ulteriori informazioni consultare le note legali.