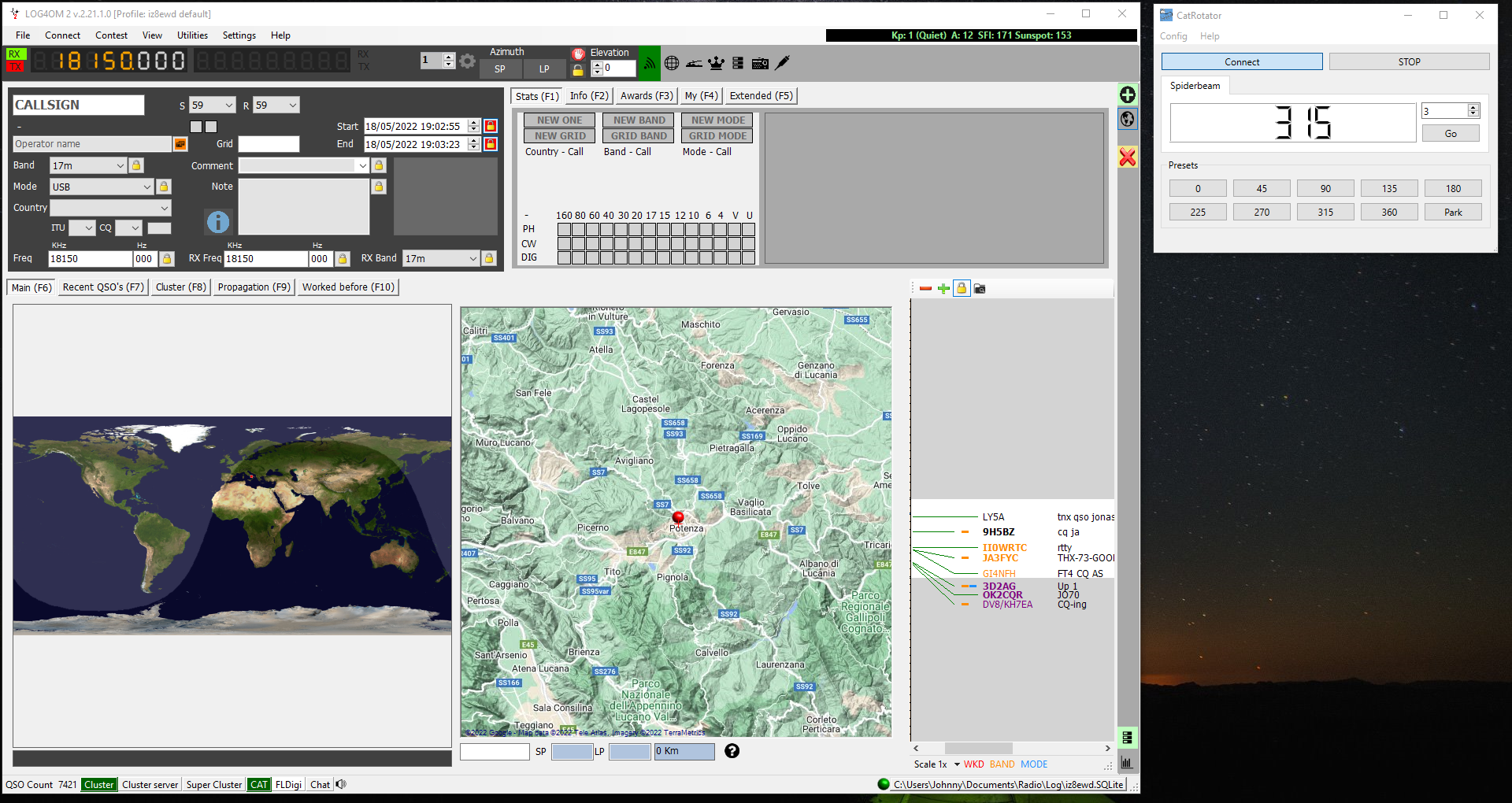 Configurare CatRotator per lavorare con Log4OM
Log4OM (Log for the Old Man) è un software free di log per Windows molto diffuso e apprezzato, realizzato da Daniele IW3HMH. Il programma è ben fatto e completo con grafica accattivante. Oltre alla classica funzione di logbook, troviamo la gestione dei diplomi, il dx cluster integrato, gestione QSL, calcolo della propagazione, interfaccia radio e rotore, keyer CW, modalità contest, gestione log on-line e tante altre funzionalità.
L'interfaccia rotore richiede l'utilizzo di PSTRotator, software che offre una moltitudine di funzionalità per il controllo dei rotori e non solo, ma a pagamento. L'alternativa è il nuovo software gratuito CatRotator. qui vedremo come configurare Log4OM e CatRotator per funzionare in sincronia, utilizzando il protocollo UDP.
Configurazione
La configurazione è molto semplice e si conclude in pochi passi:
Aprire Log4OM, selezionare il menù Settings e poi Configuration;
Nella finestra di configurazione che si aprirà, selezionare la voce Connections sotto Software Integration;
Impostare una nuova connessione UDP Outbond, sulla porta 12000 (che all'occorrenza può essere modificata), nome CATROTATOR, servizio tipo PSTROTATOR, lasciare IP Address127.0.0.1 se Log4OM e CatRotator sono sullo stesso PC;
Premere + per creare la connessione, che apparirà nell'elenco sottostante;
Premere Save and apply per salvare, chiudere il programma Log4OM e riavviare.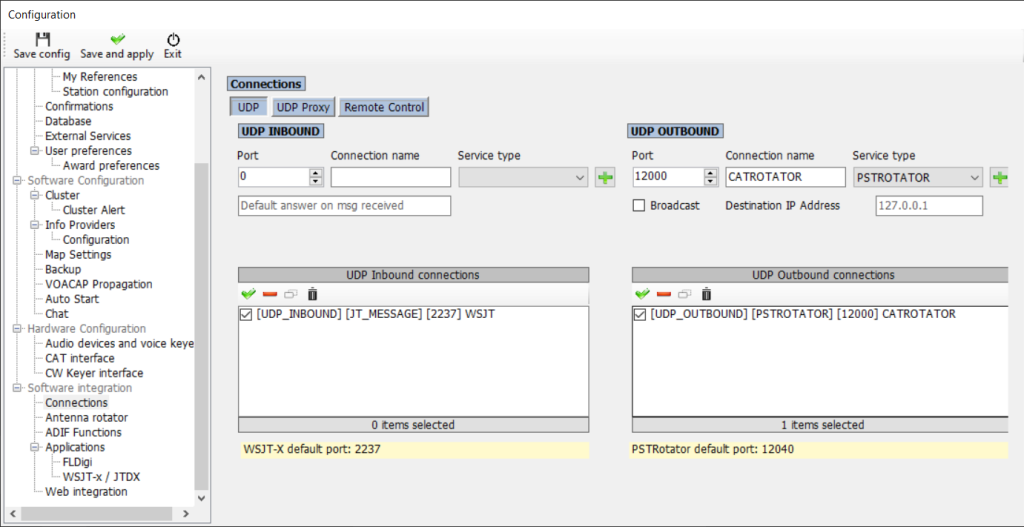 Aprire CatRotator, nel menù Config scegliere Setup;
Sotto UDP, abilitare UDP Listener, lasciare i valori di default se Log4OM è stato configurato come sopra;
Premere OK per confermare, chiudere il programma e riavviare.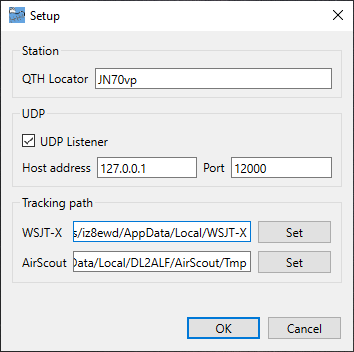 Utilizzo
Ora CatRotator è in grado di ricevere comandi relativi al puntamento del rotore da parte di Log4OM. Nella parte alta del programma, nel momento in cui si inserisce un nuovo nominativo o si clicca sul DX cluster, Log4OM propone il puntamento in azimuth (short path e long path) dell'antenna, calcolato rispetto al proprio locatore e quello del corrispondente, cliccando sul dato l'informazione viene trasferita a CatRotator che provvede a mettere in movimento il rotore e girare l'antenna. Sono inoltre presenti i pulsanti di stop (rappresentato da una mano alzata) e parcheggio (il lucchetto). Poiché CatRotator gestisce più di un rotore contemporaneamente, i comandi inviati da Log4OM agiscono sul rotore attualmente selezionato.
Riferimenti
Argomenti correlati
---

Questa opera è distribuita con:
licenza Creative Commons Attribuzione - Non commerciale - Condividi allo stesso modo 3.0 Italia.
Si declina ogni responsabilità per eventuali errori ed omissioni e gli eventuali danni che ne dovessero conseguire. Per ulteriori informazioni consultare le note legali.