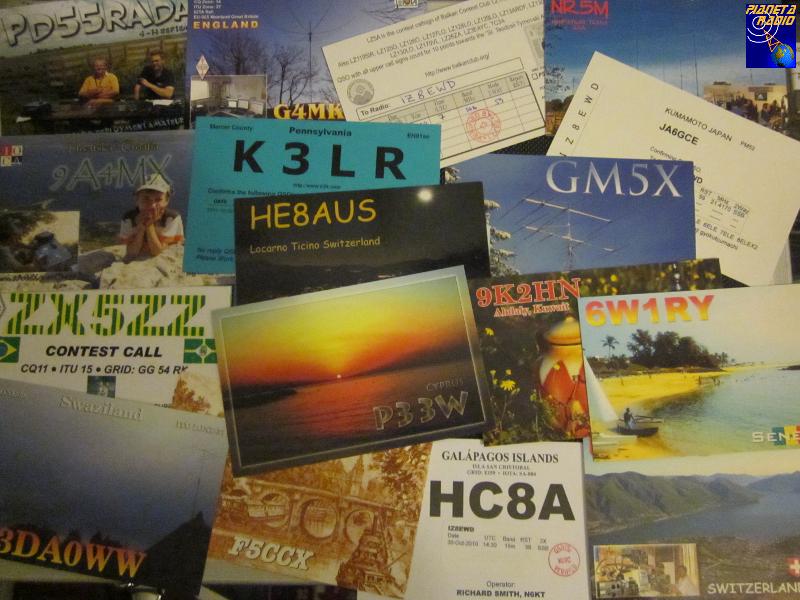 La QSL è la cartolina che i corrispondenti di un QSO s'inviano come conferma dell'avvenuto collegamento. Essa contiene da un lato tutti i dati tecnici relativi alla comunicazione effettuata e i propri dati personali, dall'altro una eventuale personalizzazione grafica, una foto etc.. Alcuni preferiscono la stampa da un solo lato lasciando il retro inutilizzato, in altri casi, se le informazioni sono tante, si utilizzano anche QSL a quattro o otto facciate. Altri, invece, ne fanno volentieri a meno, utilizzando solo sistemi di conferma elettronica o non preoccupandosene affatto.
I dati fondamentali da inserire sono:
Il proprio nominativo (nel caso specificare se la stazione è mobile o portatile);
Nome, cognome, indirizzo;
E-mail, eventuale sito internet;
WW Locator e dati che facilitano l'identificazione geografica della propria stazione;
Nominativo del corrispondente e dell'eventuale manager;
Dati del collegamento o dei collegamenti (con una sola QSL è possibile confermare più di un QSO con la stesso corrispondente), secondo lo schema riportato nella tabella sottostante:
| Date | Time | Frequency | Mode | RST | QSL | Notes |
| --- | --- | --- | --- | --- | --- | --- |
| | | | | | | |
| | | | | | | |
Data e ora del collegamento, rispetto al fuso-orario di Greenwich indicata con GMT o UTC;
Frequenza o banda utilizzata;
Modo operativo (indicato a volte con 2-WAY);
Rapporto RST;
Specificare se la QSL è di risposta TNX (thanks) o si attende ancora quella del corrispondente PSE (please send);
Eventuali note o commenti al QSO.
A completamento delle informazioni inviate al corrispondente si possono aggiungere:
Informazioni sul proprio RTX, sulle antenne, la potenza utilizzata, particolari condizioni operative;
Dati relativi al conseguimento di diplomi, come la zona CQ, la provincia o, in caso di attivazioni, il numero ed il nome della referenza;
Eventuali appartenenze a club e associazioni;
Se la QSL è via bureau o via diretta;
Tutte le informazioni ritenute utili che variano a seconda dei casi specifici;
Saluti finali.
Le QSL possono essere inoltrate via bureau o via diretta. Nel primo caso, se siete soci di un'associazione radioamatoriale che offre questo servizio, dovrete semplicemente consegnare le QSL al manager della vostra sezione il quale le invierà al bureau nazionale che provvederà allo smistamento verso i bureau esteri di competenza.
Se il corrispondente o voi stessi non siete coperti da questo servizio, dovrete ricorrere all'invio diretto, con le modalità previste per una normale lettera. In questo caso, la maggior parte delle volte, dovrete aggiungere anche un congruo rimborso per le spese di invio della QSL di risposta.
A volte OM con elevato traffico radio o che abitano in paesi non serviti dal bureau, possono avvalersi di manager esterni che a loro volta possono o meno avvalersi del servizio via bureau. Di solito tutte le informazioni sui manager sono reperibili sul web o sui bollettini. Stesso discorso vale per le spedizioni DX.
I tempi di attesa sono molto spesso lunghi e qualche volta la tanto agognata QSL non arriva, vediamo allora qualche consiglio per aumentare la probabilità di ricevere risposta:
Nel caso diretto, trovare le giuste indicazioni su dove inviare la cartolina consultando diversi callbook in modo da avere dati sicuri e aggiornati;
Nel caso via bureau, assicurarsi che il corrispondente (o il suo manager) sia iscritto ad una associazione che fornisce il servizio;
Compilare la QSL correttamente in ogni sua parte, se si sbagliano i dati del QSO il corrispondente potrebbe non trovarlo sul proprio loogbook mettendo quindi da parte la cartolina o restituendola con la dicitura "not in the log";
Scrivere in maniera leggibile, ricordarsi che lo zero 0 deve essere barrato per essere distinto inequivocabilmente dalla lettera O, usare caratteri stampati (fonts) standard o comunque di chiara interpretazione;
Stampare il proprio nominativo da entrambe le parti della cartolina e in maniera grande e leggibile;
In alcuni casi (spedizioni, paesi poveri) è necessario inserire un contributo per la QSL di risposta, possono essere degli IRC (buoni internazionali di risposta) o dollari, in questo ultimo caso assicurare che non siano visibili dall'esterno onde evitare che la busta venga aperta da malintenzionati;
Qualche volta è utile allegare anche una busta preindirizzata, detta SAE (Self Addressed Envelope), per la risposta in modo da evitare possibili errori di trascrizione del proprio recapito;
Se, pur essendo trascorso molto tempo, la risposta non arriva fare un altro tentativo inviando nuovamente la QSL, considerare però che spedizioni o manager hanno spesso una grande quantità di risposte da inviare e le varie operazioni richiedono certamente tempo;
Utilizzare preferibilmente il servizio via associazione, richiede attese maggiori ma si risparmiano soldi e fatica, alcune volte pur inviando la QSL via diretta si riceve risposta via bureau nonostante i contributi inviati;
Le QSL inviate via bureau devono avere le dimensioni standard di 14 X 9 cm circa imposte dalla IARU per tale tipo di servizio, altrimenti ve le vedrete tornare indietro;
Avere in ogni caso molta pazienza.
E ricordate: "QSL is the final courtesy of the QSO".
Argomenti correlati
---

Questa opera è distribuita con:
licenza Creative Commons Attribuzione - Non commerciale - Condividi allo stesso modo 3.0 Italia.
Si declina ogni responsabilità per eventuali errori ed omissioni e gli eventuali danni che ne dovessero conseguire. Per ulteriori informazioni consultare le note legali.